We're pleased to announce that we've replaced the search result system with a completely new engine that gives much better results.
After a week of tuning the results, we think this now seems to find what you're looking for pretty consistently.
A bit of history: the search system that we launched with was really just a basic text search that didn't have any proper ranking system. Accordingly, this meant that the issue or discussion thread you wanted appeared hidden randomly amongst lots of other results.
The new system is a proper search engine, with rankings that we can tune and improve over time. We've already added various tweaks.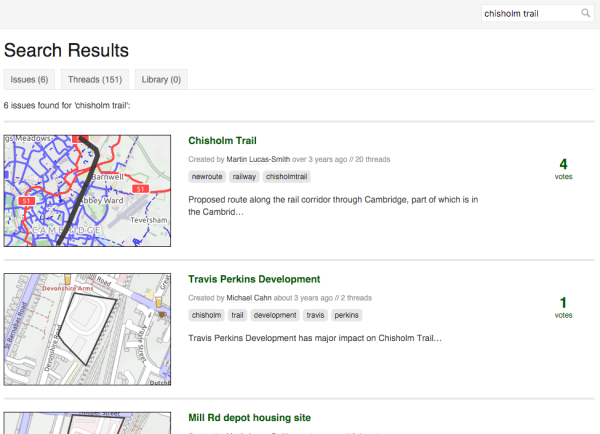 Let us know via the feedback link on the site if you get a search result hasn't found what you know is there.
Secondly, we've added pagination, so you're no longer limited to one page of results.
Another long-awaited improvement is that searches within a group's area will only return results from that area. So if you're in, say, Camden Cyclists' Cyclescape area, you won't get results polluted with issues from Cambridge, Sheffield, Leeds, or wherever.
Next planned improvement is to integrate the planning application search into the main search area.
This work to facilitate work by local cycling advocates has been possible thanks to grant support from the Polden-Puckham Charitable Foundation. Thanks also to our developer, Nikolai!