This is a techie blog post, for the information of developers. If you're an ordinary user, you'll probably want to skip this post!
Cyclescape now has a fledgling developer API is now available.
Basically, this enables data in Cyclescape (public information - no personal data is involved) to be used in external systems, making it more useful.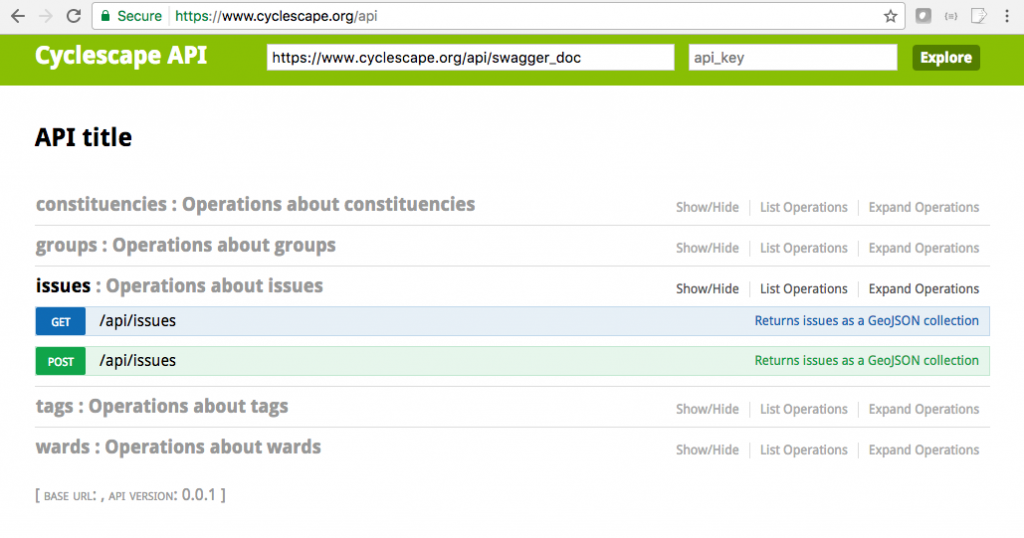 Currently available API calls, as described in the documentation, are:
Issues - what problems exist, and when were they reported?
Groups - cycling groups around the country and their geographical areas
Tags - what are the themes of problems that people are talking about?
Here are the first two integrations, by way of example:
London Cycling Campaign's consultation map
London Cycling Campaign are using this to create a map of current consultations in London, thanks to work by Camden Cyclists.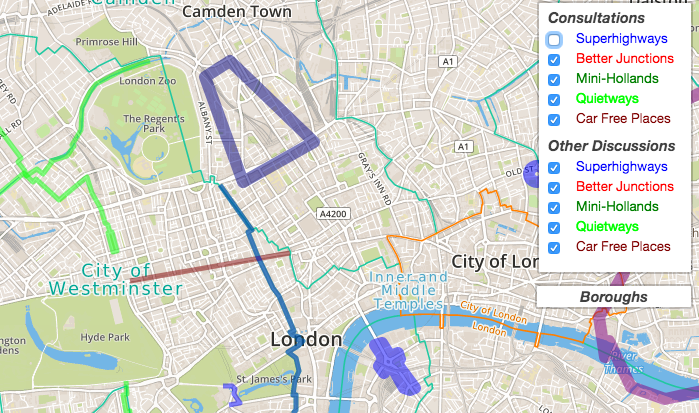 You can create a similar map using the code for the map, which is open source.
Bikedata
CycleStreets (who run Cyclescape) has been working on a new website, Bikedata.
The Bikedata site aims to provide cycle campaigners around the UK with a 'one-stop shop' for data that helps them in their work. You can read more about the Bikedata site.
We've used the API to pass through reported issues on Cyclescape to Bikedata.
We've also added a layer showing all groups.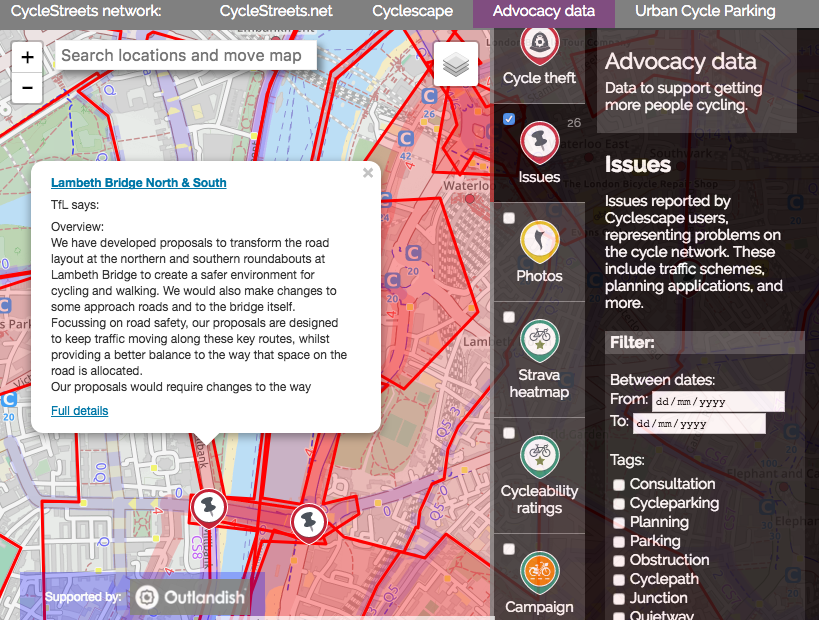 API documentation
Documentation of the API is available at:
https://www.cyclescape.org/api
Geographical data is GeoJSON, making it easy to add to a Leaflet or other map.
Usage policy
We don't currently have an API usage policy, but for now, we would expect users to adhere to standard principles:
Avoid excessive volumes of requests to the server;
Limit the geographical size to only what is needed;
Ensure you give attribution;
Link back to the site, rather than copying material which will then go out of date.
Future developments
We expect that more API calls will be added in future. Let us know if you have any particular requests for the API.

This work has been possible kindly thanks to grant support from the Polden-Puckham Charitable Foundation. Thanks also to Nikolai and other contributors who have made these improvements possible.