Lots of new smaller features have gone live in recent months:
Thumbs up: You can now thumb-up (or 'like') a posting. It's a useful and quick way of showing approval to what someone else has written. You can hover your mouse over the thumb and see who has liked it. Thumbs-up is also installed on each issue - replacing the old voting system.

Hashtags to link posts together: You can link disparate messages from around the site together by using hashtags. This works in basically the same way to other sites like Facebook. Just prefix a word with a hash sign (#) and it will turn into a link to a page showing all the other messages containing that hashtag. This is specific to each group. So, for instance, members of Placeford Cycling Campaign could mark items that could go into their newsletter just by writing #newsletter in a post. There's also an index of all hashtags for each group.
Planning applications: Thanks to PlanIt, with whom we have been working, planning applications from some 78% of councils around the country are now coming through to Cyclescape, via your My Cyclescape page. This gives you easy access to development proposals in your areas, usually within a few days of them being posted on your council's website. If you know about an existing development, you can now paste its number into the search box to get to it quickly.
Revamp for setting locations you're interested in: We've completely reworked the way you specify what areas you're interested in. Now you can type in an area, e.g. your local council ward, and the system will come up with a set of suggested areas you might like to follow. This means you don't have to know how to read a map (and then draw on it) to set it - now you can search by name. We've got groups, constituencies and wards all loaded. You can also plan a cycle journey to get an A-B route you want to monitor, e.g. so that you get told about issues along your way to work that other people have reported. The new interface also show you how many issues the areas you've selected would match - so you know whether you'll get more than you can handle. We'll have a blog post about this soon, and will be making further improvements to it, as there are some rough edges still.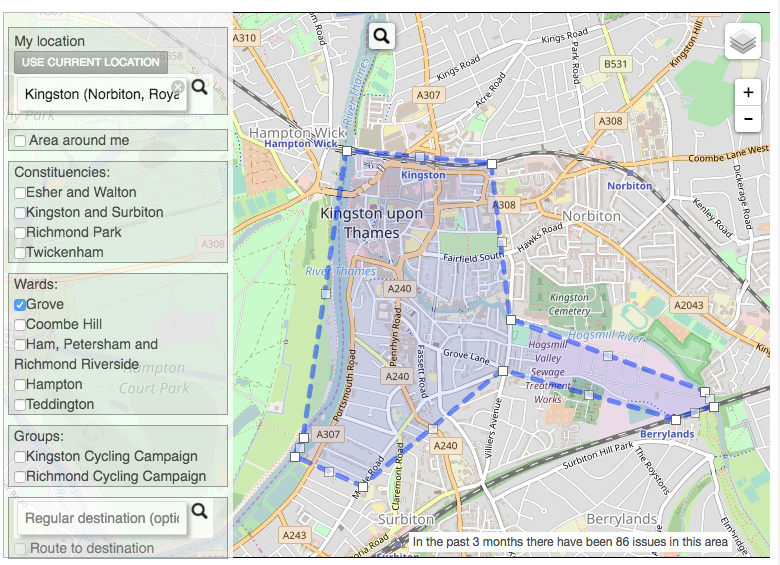 You can see the full list of changes (available via the 'What's new' link at the bottom of all pages of the site).
Now that we've got these in place, we'll be starting soon (subject to funding) on a long-awaited major revamp of the layout of the site, moving things around to make everything much clearer, as we know that new users are still confused by how to subscribe to things.

This work has been possible kindly thanks to grant support from the Polden-Puckham Charitable Foundation. Thanks also to Nikolai and other contributors who have made these improvements possible.